Spinal Decompression for Herniated Discs in Scottsdale, AZ
Spinal Decompression for Herniated Discs in Scottsdale, AZ
Written By Tanner Chiropractic on December 19, 2019
---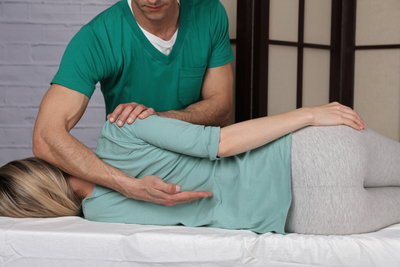 Do you experience sharp or burning back pain, numbness, and/or weakness in the arm or leg? You may have a herniated disc.
Also called a ruptured or bulging disc, a herniated disc is a condition that occurs when one of the shock-absorbing cushions (spinal discs) that sit in-between the vertebrae on your spine slips out of place. This irritates the surrounding nerves, causing extreme pain.
Although a slipped disc can occur anywhere along your spine, it often occurs in the lower back and neck. Fortunately, you can get quick relief from herniated discs in Scottsdale thanks to the spinal decompression therapy from Tanner Chiropractic.
Spinal Decompression in Scottsdale: Relieving Pain from Herniated Discs
Spinal decompression therapy is a non-surgical, traction-based procedure that involves stretching the spine – using a motorized device – to relieve back and neck pain.
By creating negative intradiscal pressure, the bulged discs will retract and reposition correctly, taking the pressure off the affected nerves and other structures in your spine. This not only results in pain reduction but also promotes the movement of oxygen, water, and other nutrient-rich fluids into the discs so they can heal quickly.
One study even confirmed that spinal decompression was associated with back pain reduction and an increase in disc height.
Besides herniated discs, spinal decompression is also effective on a range of conditions including spinal stenosis (narrowing of the spine), sciatica (shooting pain from the hip down to the leg), and radiculopathy (pinched nerves).
Get Quick Pain Relief with Spinal Decompression Therapy
At Tanner Chiropractic, we utilize the Triton Decompression System to provide relief to individuals suffering from severe back and neck pain caused by herniated discs. The procedure is FDA-approved and has a high success rate.
If you have been battling herniated disc-related pain, visit our Scottsdale chiropractic clinic today or call us on (480) 595-6101.

Posted In: Chiropractic Low Back Pain Bulging Disc Treatment Spinal Decompression