Shoulder Pain from Golf? Tanner Chiropractic Can Help
Shoulder Pain from Golf? Tanner Chiropractic Can Help
Written By Tanner Chiropractic on February 20, 2020
---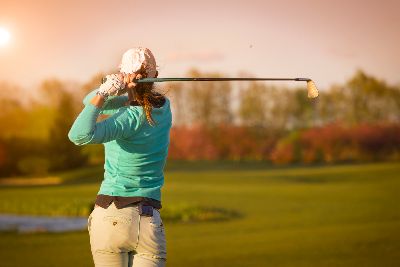 Without proper shoulder treatment, shoulder pain can feel like a persistent, unpleasant itch that you can't reach, or worse. It aches day and night. When you slightly lift or rotate your arm, the pain intensifies. Your arm feels weaker and you find yourself not able to perform basic tasks.
Could these symptoms be related to your endless love for golf?
Absolutely!
If you play golf regularly, you're at risk of repetitive stress injuries. Golf swings rely heavily on the shoulder's tendons, muscles, and joints to get the ball off the tee.
Golf Shoulder Pain Treatment in Scottsdale: What Parts are Affected?
While varying your golf swings may help protect you against some forms of shoulder injuries, there'll always be some stress to the structures of your shoulders if you play regularly.
Some of the most affected shoulder parts include:
Cartilage: This is a flexible connective tissue in the body, that's particularly concentrated around the back area of the shoulders. It can easily tear during a backswing.
Rotator cuff: Arguably the most common shoulder injury when playing golf. This part consists of four muscles and tendons and is responsible for the stabilization of the shoulders – an important aspect of golf. The rotator cuff is prone to injury from overuse.
Scapula/Shoulder blade: While the scapula isn't directly recruited into the golf swing, it can get sore from overwork and cause serious complications.
You can also get a shoulder joint tear and a shoulder impingement (the rubbing of tendons on the scapula) from playing golf.
Chiropractic Care for Shoulder Pain
Once a diagnosis is made, shoulder pain treatment can begin. At Tanner Chiropractic, we use cold laser, ultrasound, and sport rehab techniques to diagnosis and treat shoulder pain. Dr. Green holds a Level 1 and Level 2 TPI Certification, meaning that he has the right skills and know-how to manage your golf-specific injuries.
Tanner Chiropractic Offers Professional Shoulder Pain Treatment in Scottsdale
Shoulder pain from golf can be unbearable. However, with the right shoulder pain treatment, you'll be back on the green in no time.
For golf-specific sports rehabilitation, schedule an appointment or call Tanner Chiropractic on (480) 595-6101.

Posted In: Chiropractic Shoulder Pain